We consciously see ourselves as a company that bears responsibility. For the people of our region, for the people we work with and for the people who use and apply our products. We live positive cooperation, collegiality and team spirit. Look forward to an exciting environment in which your personal development as well as openness for ideas, enthusiasm for the common goals and cohesion among the employees are in the foreground.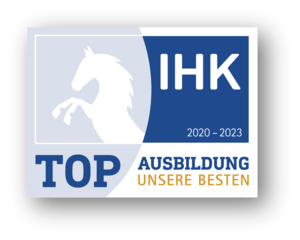 Seit 2019 gibt es im Land Niedersachsen ein Qualitätssiegel für herausragende Ausbildungsbetriebe. Dieses Siegel können niedersächsische Industrie- und Handelskammern vergeben, wenn die Qualität der Ausbildung in einem Betrieb deutlich über dem Durchschnitt liegt. Das ist zum einen eine Orientierung für alle Bewerber die Wert auf eine gute Ausbildung legen und zum anderen eine Wertschätzung gegenüber den Betrieben die eine sehr gute Ausbildungsarbeit leisten. M&S ist erst der dritte Ausbildungsbetrieb im IHK Bezirk Ostfriesland und Papenburg der diese Auszeichnung erhalten hat. Insgesamt können maximal drei bis fünf Prozent aller Ausbildungsbetriebe dieses Siegel erwerben.
Tips & info on how to apply!
You have already found your way to us and landed on our website -
now it's up to you, draw our attention, show us who you are!
You could decide for an apprenticeship with us? Then let's get started, send us your application. When writing your application, make sure that it is error-free. It's best to have your family, friends or teachers look over it.
As the saying goes, four eyes see more than two.
Create your application and send it to us by e-mail or post. Of course you can also bring it in person, we look forward to your visit to us in Friedeburg!
The easiest way to process applications is to send them to us by e-mail (bewerbung@ms-armaturen.de). This ensures that they reach the right contact person quickly and can be answered promptly. The application should contain a cover letter, a curriculum vitae, the last two school reports and certificates (if available). Please make sure that the documents are legible.
Limit your cover letter to a maximum of one page. The cover letter is the first impression we get of you - tell us who you are and what makes you tick! You should answer the following questions in your cover letter:
Why do you want to start an apprenticeship at M&S?
Why are you interested in the advertised training position?
What makes you a suitable candidate?
Your resume is the key to a good application, design the layout so that the text is easy to read and the formatting is clear. Consider the following content:
Personal data: Please include all relevant contact information such as your name, email address, phone number and mailing address in both your resume and cover letter.
Education/Qualifications/Training: Your resume should accurately reflect your education along with your accomplishments such as degrees, certificates, and grades.
Work Experience: Provide a list of your previous jobs with start and end dates of employment at each company. Summarize important details of your duties in each position, including significant accomplishments or projects.
Before you submit your application, don't forget your attachments. References, work certificates, grade reports and all other relevant written documents are necessary to prove your qualifications and experience.
The photo should be presented in good quality - because a picture says more than 1000 words.
Prepare yourself, it's not important to memorize numbers, dates, facts about M&S - we want to get to know you and your views to find out if you fit in. Convince us that you want to be a part of M&S and that you fit into our team. If you have any questions, don't hesitate to ask.
What can happen after the training?
- your contacts
I'm Nina, and I've been with M&S for over 10 years now. Back then, I started my training as an industrial clerk. I quickly felt very comfortable in sales and know it like the back of my hand. Through M&S I got the chance to become a training coordinator for the commercial professions and I am looking forward to accompany and support young people in their career.

Today I am also team leader of the sales department. Further training has always been an important topic for me - I am glad and grateful that I have been given the confidence and opportunities to do this at M&S.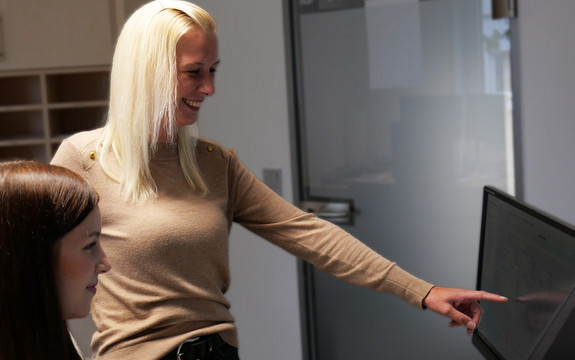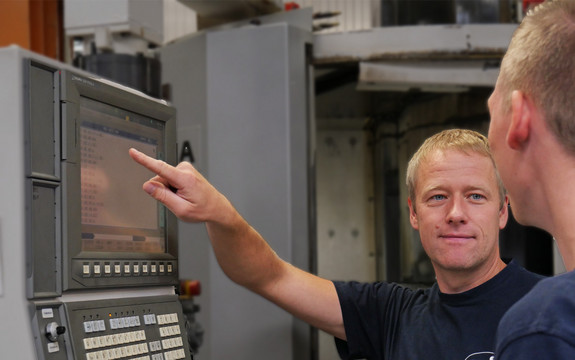 My name is Thomas and I myself was able to complete my training as a cutting machine operator specialising in turning technology here at M&S Armaturen over 20 years ago. After a few years as a machine setter, I furthered my education at the master school to become a master precision mechanic with the support of M&S. Subsequently, I worked for several years as deputy head of the machining department. During this time, I also supervised the trainees.

Over the years, I then completely took over the role as training coordinator for the trainees in the industrial area. I still do this today and provide support in CNC programming.

You and I - we have a common goal: your successfully completed training after which you, just like me, can continue your education with us!
You are unsure what you want to do after school or have not been able to make a decision yet because you are still missing impressions?
We help - together we will find the right profession for you! In the industrial apprenticeships you have the possibility to do a flexible internship. This can be a school internship of three weeks, just a few days during the holidays, or even just a short "sniff" after classes at school - you decide the duration. We will give you a very special insight into the world of fittings at M&S. Would you like to get to know us and find out exactly what we do, how everything works and who or what is involved? Apply with your ideas below via the contact form. Our team is looking forward to getting to know you.