M&S butterfly valves SV04
M&S butterfly valves are shut off devices that are used in almost every production line in the foodstuff, beverages, cosmetic, chemical and pharmaceutical industries.
The butterfly valve type SV04 is a further development of the type Classic. It was optimized in terms of hygiene, design, and assembly friendliness. Gasket service life and vacuum tightness have also been significantly improved by the new gasket geometry.
The type SV04 represents state-of-the-art in M&S technology.
To shut off liquid, viscous and in a limited way gaseous media in pipelines, instruments and containers
Mainly in hygienic production lines or for cleaning processes as well as in energy supply
Also to control the flow volume in connection with a positioner
To deflect media flows by means of distributor combinations (Tee-butterfly-valves)
Design as leakage butterfly valve for safe media separation (e.g. to separate product from cleaning media)
Hygienic design
Very easy to clean and sterilize as well as durable, robust, reliable and safe to operate
Vacuum-tight sealing technology
Housing parts and flaps in principle made of forged primary material
Gaskets in principle FDA-compliant
Marking of heat number, manufacturer and material
EHEDG-certified until 2019 (re-certification pending)
Assembly-friendly
Modular system
Same product - different combination
Butterfly valve SV04 with manual override
Manually confirmed butterfly valves are equipped with a self-engaging manual override (pull handle) as standard.
Butterfly valve SV04 with pneumatic actuator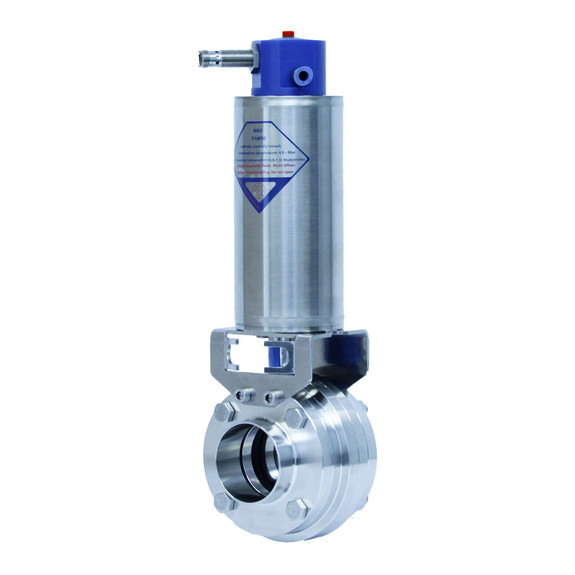 The M&S PAMS pneumatic actuator enables automatic operation of disc valves. Depending on the dimension, sizes 0, 1 and 2 are available.
Butterfly valve SV04 with control and feedback head
The TOP control and feedback head is an expansion module for the PAMS pneumatic actuator. In addition to the electrical position feedback, the valve position on the control head itself is visually indicated by colored high-performance LEDs. The control and feedback head can be retrofitted to all M&S standard actuators.